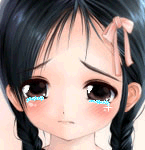 hey..please shout-up ur mouth!! . i hate it when when u said "
yeayyy sabah is waiting for me now
~" do u know that my feeling now..don't u feel it..
i feel like crying... bcoz i thought before that i'll be back home later... ow..
airsia!!
please i need promotion ticket from u..
i'll feel lonely for 1 weeks here
i hate it so much..
just now i called yaya..she begged me...
she keep asking me when i'll coming home.. owwhh u make me cry darling~ n suddently my tears fall down..
.....no.. it's hurt me...i miss u too yaya..don't worry about me .. i'm ok here ;;i just want u to be happy there..sygg yaya juga ...
actually i planned it for long time already..but when the time comes, unfortunately the chances is not mine.
*so the ending is i'll will endup this holiday at my hostel with nobody for 1 weeks....